Barrow Visitor's Guide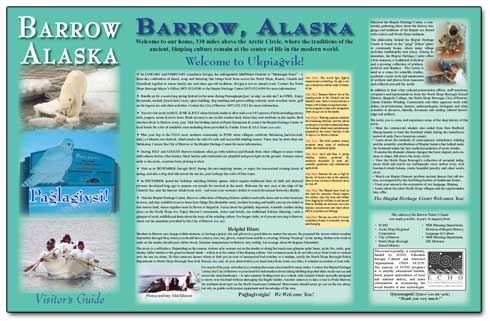 To provide information that is as current as possible and to ensure accuracy, with the support of Iñupiaq cultural mentors, members of the North Slope Borough Commission on Iñupiat History, Language & Culture; the North Slope Borough GIS Division, Planning Department and Department of Wildlife; the City of Barrow, Barrow Arctic Science Consortium (BASC), local photographers, project sponsors and advertisers, Touch Alaska Interactive has been pleased to produce and publish the Visitor's Guide to Barrow, Alaska since the mid 1990s.
Barrow, Alaska - A Visitor's Guide includes maps with easy-to-read road names, a key that includes the location of advertisers and sponsors, photos by local photographers, and information about the community including safety resources. The guide is 16"x20" double-sided, folded, glossy 4-color on fine paper stock.
Click here to download the Barrow Visitor's Guide